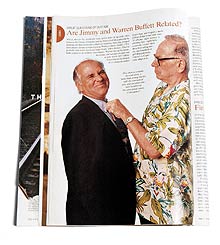 It is the most pressing and important Warren Buffett question ever. No, not why he gets a free pass every year when he talks down stocks so that he can buy them; and no, not why he is so fond of the bullying Bill Gates.
The big question: Is he, or is he not, related to Jimmy "Margaritaville" Buffett? Because we investors & parrotheads want to know.
The answer can finally be revealed, and it is that the two Buffetts are … not related. According to a story in Fortune, Warren and Jimmy submitted to DNA tests (Warren spit repeatedly into a spectacle that was then FedEx-ed) through the Google-backed (and Sergey-spousal run) 23andMe two months ago, and the result was that the two men share a common ancestor — but only 10,000 years ago, long before surnames existed.
So much for that long-rumored Warren/Jimmy connection of a formal South Pacific penal colony.
[via Fortune]