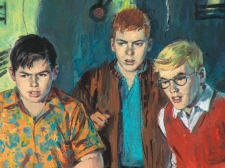 Whoa, finally the right investigators are on the HP board of directors case:

8:05 PM ET 10/8/06 Three investigators in H-P case to appear in court Tuesday – MarketWatch
With The Three Investigators on the HP case things should get sorted out quickly. I used to live by those books, and, I have to confess, was more than a little obsessed with Jupiter Jones, including regularly trying to find contests involving bottles of beans. And don't even ask me about the time I tried to build a clubhouse in a junkyard.